What is Audio Engineering? – About, Important, Information, and More
Next Web Blog, 2 years ago
3 min

read
429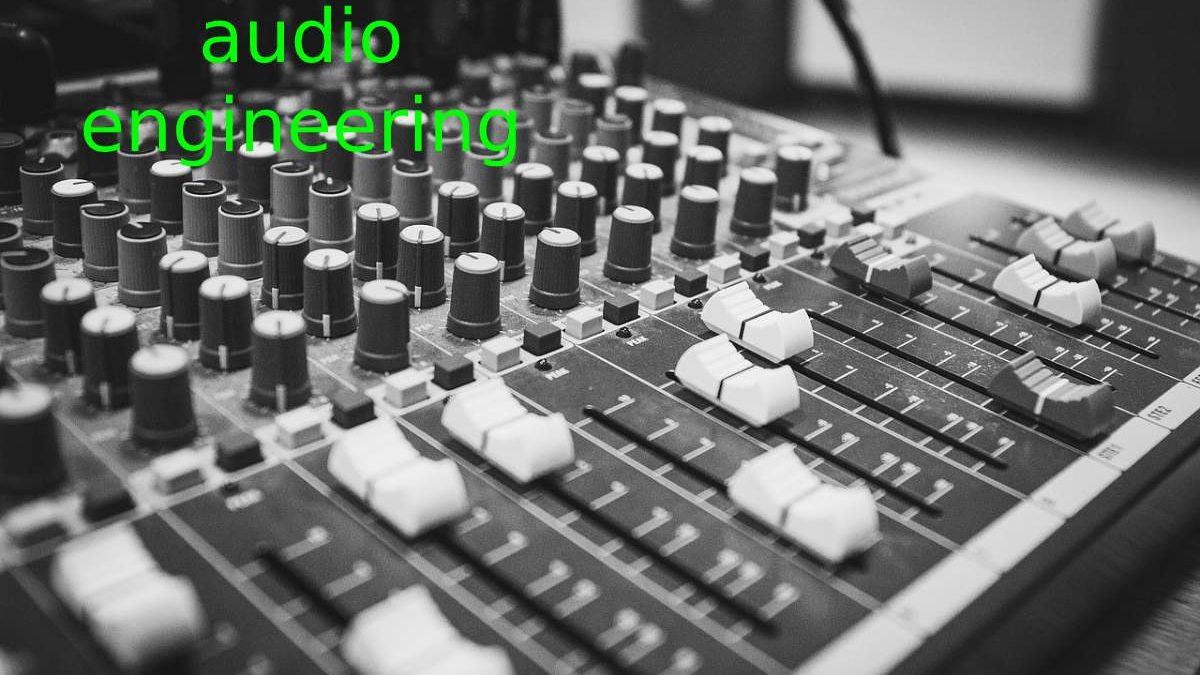 What is Audio Engineering?
Learning about audio engineering technology can make you an asset to companies, organizations, and businesses that use audio equipment for various events. It's also essential in the world of music. Read on for more information.
Overview of the Land
The field of audio engineering includes the maintenance and operation of audio systems and the mechanics of audio engineering. Audio technology helps create sound in the world of communication and entertainment. Since multimedia production and digital sound support encompass many career opportunities, there are many different fields and specializations to choose from within audio technology. Some domains include broadcasting and audio engineering, which can lead to jobs in film and theatre productions, recording studios, and sports arenas, to name a few.
Essential Facts About Audio Technology
Critical Qualifications: Manual dexterity, problem-solving, communication, and computer skills
Similar jobs: Computer scientist, electrical engineer, film/video editor, or cameraman
Work Environment: Full-time in a variety of different environments, often with a tight schedule
Education Required: In addition to a college education, previous work in math, science, video editing, and project management will be helpful.
Employment Opportunities
In broadcasting, live radio and television use audio technology to create and transmit the sound they depend on. As an audio-video technician, you will configure, manage and maintain the necessary equipment such as microphones, video monitors, and speakers. You could also become a broadcast engineer, focusing on equipment that controls audio and video signals.
As a sound engineer, you capture, create or reproduce sound for film, theatre, and television. You can also design sound for arena-style events, including sports teams and music concerts. In addition, you can create queue effects for soundtracks, movies, and theatre productions that enhance a story. Finally, this role allows you to work as an audio mixer for recording studios and video production teams, inserting sounds for TV shows or movies after filming is complete.
Career Prospects And Salary Information
According to the United States Bureau of Labor Statistics (BLS, www.bls.gov), job opportunities for broadcast and sound engineers are expected to increase by 3% between 2019 and 2029, which is an average compared to other areas. However, depending on the specialization you are interested in, you may find better career prospects in specific industries. For example, BLS forecasts showed that audio and video equipment technicians could see a 12% increase, while job opportunities for audio engineering technicians would only increase by 6% over the period.
In May 2020, the BLS reported that audio and video equipment technicians earned a median annual income of $47.90. At the same time, sound engineers earned an average yearly salary of $53,520, and broadcast engineers earned an average yearly salary of $43,570.
Education And Certification
For entry-level positions, improve your job prospects by completing a technical program related to audio technology. According to the BLS, many recent applicants have earned an associate's or bachelor's degree in audio. Some programs include internships to give you a working knowledge of the area. You can also work as an intern or assistant to gain experience.
If you work in the broadcast industry, you can advance your career by becoming certified by the Society of Broadcast Engineers. This organization offers many different levels of certification, such as B. Certified Broadcast Network Technologist and Certified Sound Engineer (www.sbe.org). You can also obtain more general audio technician certification through the Electronics Technicians Association, applying to various industries.
Also Read: What Is Artificial Intelligence? – Work, Types, And More
Related posts